www.cokesbury.com, a division of the United Methodist Publishing House, has the devotional on sale and has free shipping over $35 (you just need to order three copies of the book and you are there!) and they also have an overnight shipping option.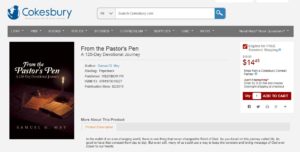 I don't know how long their sale will last but please pass this post along and, maybe you have some people in mind that you would like to bless with a gift that keeps on giving.
By the way, I will be sharing more about this, but I will be developing a Bible Study guide to go along with the devotional so that it can also be used in Bible Study Groups, Home Meetings, Accountability Groups, etc. So, get some for your group and get started as early as tomorrow! Take a week's worth of devotionals and let everyone share what it meant to them; it's a way for everyone to be blessed and to be a blessing!
Don't forget to join our Email list and become a Fellow Traveler! Just Click HERE